BELSE Production License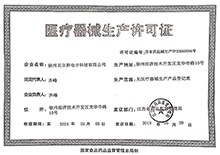 BELSE production license, issued on February 9, 2015, valid on February 8, 2020.
License number: Su Food and Drug Supervision Equipment Production License No. 20050056
Production range: Ultrasound machine, Color Doppler, ENT Treatment Unit, Ultrasound-guided visual abortion machine
Corporate legal person: Qifeng
Production Address:No.10 Longhua Si Road, Economic and Technological Development Zone,Xuzhou city,Jiangsu Province,China.